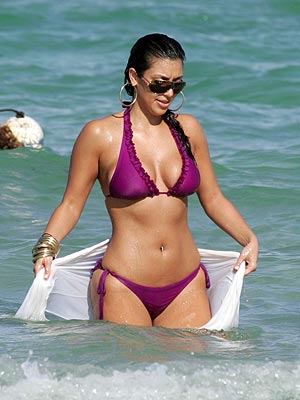 She already has her own perfume, clothing and jewellery line and now Kim Kardashian and her sisters are launching their own self tanner.

But the curvy star looked in dire need of her own product as she stepped out looking unusually pale in Los Angeles.
The reality star was barely recognisable with no make-up and hiding her body in casual sweats and a T-shirt.
Pale: Kim Kardashian is hardly recognisable stepping out in Los Angeles without her trademark tan or make up
Tired: The reality TV star picks up two energy boosting smoothies on her outing

There was no sign of the deep tan and full face of make up which she has become famous for, instead she hid behind an oversized pair of sunglasses.

The busy star bought two energy boosting smoothies from health store, The Body Factory, suggesting that perhaps the busy star was too tired to doll herself up.
And it would be no suprise since Kim, along with her sisters Khloe and Kourtney have their hands full when it comes to business deals.
Golden goddesses: Kim (centre) and her sisters, Khloe and Kourtney look stunning in the advert for The Kardashian Glamour Tan
Red Carpet ready: Star looks tanned and fully made up for a celebrity party
The advert for their latest venture, Kardashian Glamour Tan is sure to set hearts racing as all three sisters pose in tiny brown bikinis.
'My sisters and I are all about getting the perfect tan without harming our skin,' she said in a statement about the tanner, which is the first product to be released from the Kardashian Beauty line.

'We're always on the lookout for the best self-tanner.
'So we thought we'd create the perfect formula and share it with everyone else.'
The gel costs $34 and promises a natural, golden tan within 24 hours of application minus streaks and stains.
The sisters both as a team and individually have branched into modeling, acting and promotion of diet, fashion, and beauty products which they have helped design.
Kim recently revealed how she lost ten pounds following a strict healthy eating and exercise plan.
And the hard work appears to be paying off.
source::dailymail.co.uk
| | |
| --- | --- |
| | |